What kind of customer support do you offer?
At WESH UK we firmly believe in well-organised communication and we are one of the very few remaining Web Hosting Companies to still offer more than just email support.
We provide a lot of support to our customers. Please use our support in the following order:
Personal Onboarding Session:
When every customer joins us, we offer a personal 1-2-1 session of up to 60 minutes. It's carried out online via remote desktop and optionally, recorded in HD for you too.
During this onboarding, we show you around and give you a tour of cPanel, your billing, using support tickets and where everything is and what everything does.
We can also address any specific requirements you might have too.
If you haven't had yours, then please do drop us in a support ticket to arrange your onboarding session.
Shared Hosting clients get 60 minutes, covering things such as Your Client Area, cPanel, and Email Setup.
Resellers, Cloud VPS, and Dedicated server clients get 2 Hours, covering things such as your client area, managing users, cPanel, email setup, WHM (Setting up cPanel plans and packages and your DNS)
Online Knowledgebase:
If you have a question or need info on how to do things then please start by using our knowledgebase as many common problems and questions have already been answered and detailed information provided in the knowledgebase.
> https://my.wesh.uk/knowledgebase
Critical Service Announcements:
If you can not find anything to help you in the knowledgebase, please check our latest news as we often post critical updates here regarding planned maintenance, planned downtime (if any) and other issues that might affect multiple users.
If you open a help desk ticket and your issue has already been addressed by a news announcement, such as planned maintenance then your help desk ticket will be closed with the given link to the corresponding news.
Obviously we want to help everybody as much as possible at all times but please try to be aware of whats going on first.
> https://my.wesh.uk/announcements
Network and Server issues:
We have a dedicated section where we provide details of all/any planned or unplanned server or network related issues specifically.
This section is ONLY to provide info on matters that directly affect website uptime, such as problems with servers, scheduled maintenance, network problems or maintenance and the such like.
> https://my.wesh.uk/serverstatus.php
Online Support Tickets:
If you simply cannot find the answer to your question, a solution to your problems or have a matter that needs our attention and is NOT already covered by the above resources, then please log-in and open a support ticket online providing as much information as possible.
If you have any error messages you are encountering then please include these too. Screenshots are extremely useful.
When you open a support ticket please use the "Related service" facility so that we know exactly which hosting plan or domain name you need help with.
> https://my.wesh.uk/submitticket.php
Telephone Support 7 days a week:
If you have a question or problems that you would like to discuss, then, by all means, pick up the telephone and call us on 0800 5 999 404
Please however be aware that if your problem involves lots of detailed information such as URL's generating error messages, things that need usernames and passwords or where screenshots may be more helpful, then we will ask you to put this into a support ticket.
What you do not want is to spend 2 hours on the phone trying to describe your problem when a screenshot would have solved the issue in 5 minutes as this just waste's your time.
Also, the longer your on the phone with one of us, the less time is being allocated to the rest of our helpdesk team to also look at your problem for you and work on a resolution.
WhatsApp:
Unlike any other Web Hosting Company, we also accept Tech Support Requests via WhatsApp too.
This is excellent for customers outside the UK who may want to call or send secure messages or screenshots.
You can reach us via WhatsApp by simply scanning the QR code below: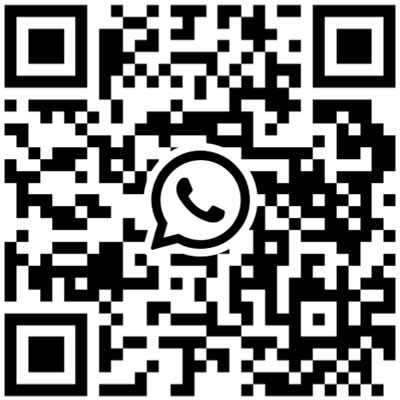 Personal IT Department:
Every customer that has web hosting with us and pays annually and has their domain name registered with us get's their own personal IT department.
This means we will provide you with Tech Support for ANY problem at all, regardless of what it is and what equipment you need help with.
Things such as Antivirus, Printer setup/configurations, Router configurations, purchasing software online and installing it and loads more.
Officially, we will not provide any support for Apple Devices (Mac's/Laptops/Phones) simply due to the complexity and limitations of their products but we're happy to check things and help with configurations of email for example.
Customers on 4 or more slices per-year, paid annually are also entitled to IT equipment repairs too. 1 Repair per-calendar year. (Drop-off and collect)
This is just another way in which we go so much further than any other hosting company.
Helpdesk Advice:
Our helpdesk is available by using our online support ticket request system to help you with your needs.
Please do not open tickets simply to tell us "Something doesn't work" because we will only reply to you to ask what isn't working and what it is that you are trying to do and how you're doing it.
Please try to avoid having 3 different people in your organization all trying to contact us for the same thing as this just causes confusion and delays. Channel your issues through 1 person who we can help.
We are not always able to help you with your website development as every website is different but are always pleased to advise and lend a helping hand when time allows for web design issues.
We encourage our customers in need of assistance to submit a support ticket via our website with their web site questions or concerns.

If you are not sure what to do then call us on the phone (0800 5 999 404) for the quickest response and we can advise if you need to use our support ticketing, which is normally the most detailed manner to submit your inquiries or problems, and it provides a record of communication extremely helpful in resolving your problem. It also allows you to review responses at any time.
Technical emergencies will be addressed first and support issues are handled in the order they are received.