To access your accounts, billing, domain names, invoices, projects, upgrades and addon products and all customer services & support tickets, you will need to login to your client area, on our website which can be found by clicking on "Web Hosting Support > Client login" from the main menu of our website.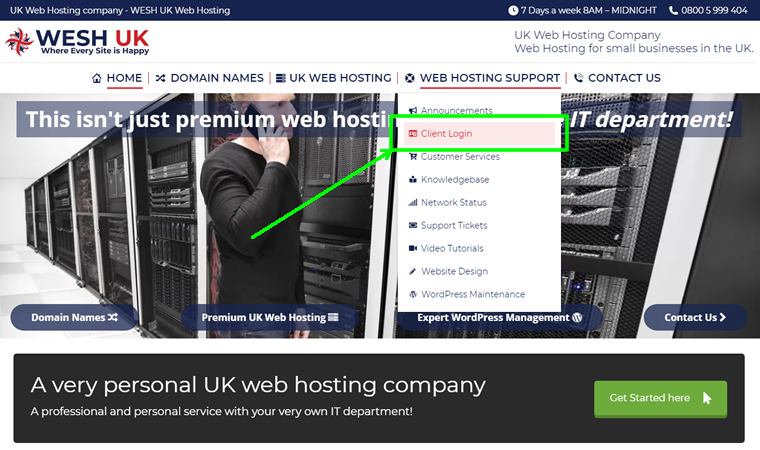 You can raise support tickets, view and edit domain names, change DNS settings, manage your billing and payment details, get help from our knowledgebase or tutorial videos and even earn some money by activating your affiliate account.
To log-in, you will need to use your client area email address (The one you currently receive all of our emails to) and password that has been emailed to you when you joined us, which may also be found in your web hosting account details email. (If you haven't changed them since joining us.
I don't know my password!
If you can not remember your password or can not find it, simply go to the client login page and click on the "Request password reminder" link and enter the email address you placed your order with and our system will generate a new password for you and email it to you straight away.
If you have set-up a security question on your account then you will need to provide the case-sensitive answer in order to reset your password.
How do my staff access the client area?
If you have any staff or contractors who also need access to your client area, (such as web designers or copywriters working on your website) you must create a sub-account for them, and then ensure you activate it.
You can do this by logging into your client area and from the top right-hand side, click on your name where it says "Hello ....." then click on User Management.
From here you can invite third parties to login and manage various aspects of your account by giving them access to everything (Not recommended) or selecting specific items that they can/cannot access.
If you give out your login details to anybody or if we suspect that anybody other than you has logged in with your credentials who is not the account owner, we will lock them out and reset your password without warning.